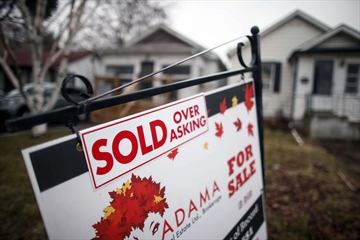 Some homebuyers are so desperate to win bidding wars that they're rushing to make offers without even getting an inspection.
For example the average price for a detached home in Canada's largest metropolitan area jumped to $1.21 million in March, up a third from a year earlier, amid a dearth of properties for sale. In the same period, Toronto-based home-inspection firms saw a 34 per cent drop in volume.
Home-price increases in North America's fourth-largest city and its suburbs have outpaced growth in places including Manhattan, Vancouver, Seattle and San Francisco, leading local officials to search for ways to control price gains and spurring concerns a correction may be coming. The frothy market, buoyed by low interest rates, is resulting in frenzied bidding wars, causing many shoppers to leave once-standard clauses such as a professional home inspection and financing contingencies out of their purchase offers.
Even for do-it-yourself types, the potential pitfalls are myriad — especially if a buyer is already going over budget to complete a purchase. Alan Carson, founder of home-inspection firm Carson Dunlop, said problems his team has found over the years include faulty pipes, eroding foundations, termite infestations, old roofs and a bathroom that seemed functional but actually lacked any connected plumbing.
The average home-inspection fee is around $450 these days, according to Carson.
A move away from inspections isn't unique to Toronto. Vancouver, Canada's hottest real estate market until Toronto took that mantle last year, saw a surge in unconditional purchase offers in the first half of 2016, said Adil Dinani, an agent with Royal LePage West Real Estate Services in the city.
The same is true in hot U.S. markets. Mark Attarha, president of Bay Sotheby's International Realty, which has seven offices in the in San Francisco Bay area, said he's seeing a spate of offers without contingencies, along with a raft of "overbidding." Attarha estimates that 75 per cent of prospective buyers he works with are accepting a home-inspection report from the seller rather than ordering their own or including an inspection clause in their purchase offers.
The financial burden typically falls to the buyer who opts to skip an inspection. Because the buyer "supposedly has the ability to see problems and ability to negotiate either a lower price or for work to be done.
There is one group that doesn't see much of a problem with the decline in home inspections: mortgage providers. Banks are far less concerned about costly repairs that may arise later and are instead focused on the appraised value of a property.