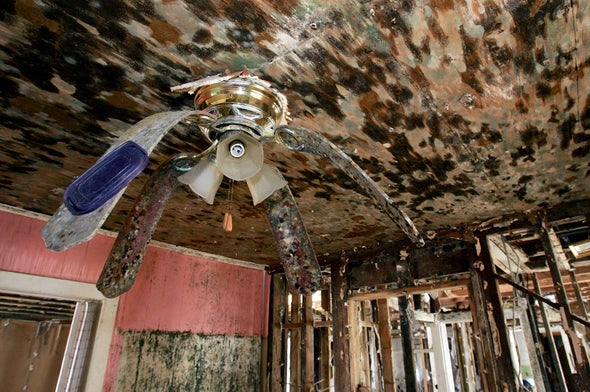 One of the biggest issues surrounding flooding after natural disasters is mold, a problem that can stay with a structure long after floodwaters have receded. Considering that over 17 percent of homes already have some physical condition that contributes to leaks and that mold grows in temperatures between 40 degrees Fahrenheit and 100°F, there is no wonder that we see mold and mildew problems after a disaster that brings flooding in homes and buildings.
Molds are fungi. Dampness supports mold and can create an unhealthy living space for people. When present in large quantities, all molds are allergenic and potentially harmful. Mold was implicated in the deaths of four Southern University at New Orleans professors after Hurricane Katrina, and mold remained a persistent problem in thousands of homes even after cleanup.
FAST ACTION ESSENTIAL
Always consider safety first when going back into a flooded home. Check for structural stability. If damage was severe, you may need to call a specialist to inspect your home to ensure it is safe to enter.
For areas that are less than 10 square feet, the National Center for Healthy Housing recommends that homeowners or renters clean it up themselves. For larger areas, consider using a professional. Hire a mold inspection or remediation professional affiliated with or certified by the National Environmental Health Association, the American Industrial Hygiene Association , the Institute of Inspection, Cleaning and Restoration Certification  or the American Council for Accredited Certification  to inspect, repair and restore the damaged parts of your home.
If you do the work yourself, keep children away while work is being done. For bigger jobs or for more protection, use a P100, which blocks 99.9 percent of all particulates, or a P95 respirator. Wear eye protection that does not have open vent holes. Use gloves that are nonlatex, vinyl, nitrile or rubber and coveralls to protect clothing.
Change into "work" clothes before entering the work area and remove when leaving.